While I was watching the playoffs this weekend, I found it fascinating how many former Charlotte Bobcats that there were playing a significant role in this year's playoffs. Since our squad isn't going to play another relevant game until November-ish, I thought that it would be fun to follow along with some of our former Bobcats brethren in their journey through the playoffs.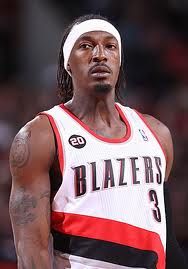 First up G-G-G-G-Gerald Wallace ( that brought back memories didn't it ). In the last few weeks of the regular season Gerald Wallace had been absolutely killing it, even managing a 40 point outburst against the OKC Thunder. Unfortunately for Crash, those good times didn't carry over into Saturday's game against the Dallas Mavericks. In that game Crash played 38 minutes but only produced 8 points, 5 rebounds, 3 steals. On the bad side of the ledger he had 3 turnovers and had his shot blocked 4 times.
The culprit of a few of those blocks was another former Cat, Tyson Chandler. I'm sure that most of you remember that there are two things that Tyson does well and that's rebounding and playing defense…. When he isn't in a walking boot. Saturday versus the Blazers he had a typical Chandleresque stat line. 4 points, 9 rebounds and 2 blocked shots.