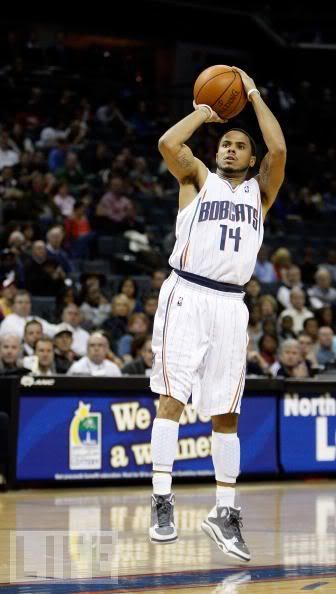 If you've been to the arena you've seen the huge ring at the bottom of the center video screen advertising LifeLock.  LifeLock is a company that provides identity theft protection, which is certainly important, unless of course, you have no identity.  I thought about that a few weeks ago while I was having one of those "Why aren't the Bobcats a bigger deal?" conversations with a fellow fan.  This was again thrown in my face, or so I thought, when I went to NBA.com to check the box score.  Check out the video.
I'm sensitive ok?  I thought the man said "To the Hornets in Charlotte."  I went to NBA.com rather than my usual ESPN.com, see if you can see why.   NO ONE HAS CORRECTED IT!  This tweet by AP beat writer covering the 'Cats Mike Cranston:  Still happens nightly RT @HawksPRGuy: GAME TIME! #Hawks #Hornets.  When Coach Brown, let's say left the team, I was watching Dan Patrick's radio show and they literally had a joke call-in segment to have people name 2 Bobcats players.  His point was that by firing Coach Brown, the 'Cats were removing the one guy that mattered as far as identity.  Very funny, Bob Costas still owns you.
So worse than the confusion of national and out of town media, the Bobcats have little to no identity on the court.  I have this sense that I never know exactly what we'll see night in night out.  Look at the final scores:  87, 100, 83, 92, 81, 94, 96.  The leading scorer has been somewhat consistent however, who it is would probably surprise casual fans.  DJ Augustin has been outstanding, truly, and I'm not looking for a diamond in the rough, he's been a good point guard.  You expect the Bobcats' leading scorer to be either Stephen Jackson or Gerald Wallace, the all-star from last season.