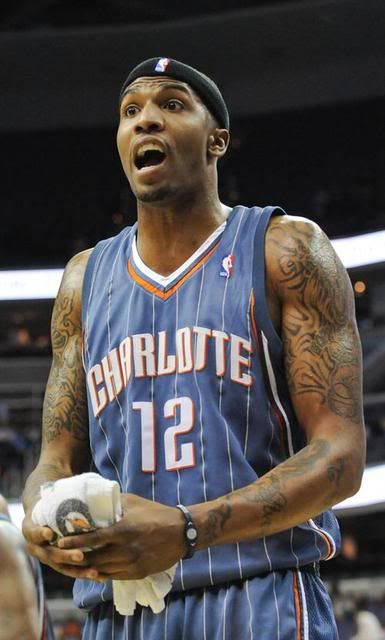 New Orleans is another one of those good teams, coming into last night's game 24-16, that the Bobcats have to beat.  Well, they had a chance but squandered it by regressing.  Too often last night the 'Cats fell into old habits of complaining, protesting calls, slowing down the offense and allowing easy baskets off of turnovers.  Biggest single example?  Tyrus Thomas giving the ol' crook of the arm to former Bobcat Emeka Okafor.  The play resulted in T-Time's ejection, 2 shots for Okafor (which he made…go figure) and the ball for the Hornets.  81-77 when the rebound occured and 85-77 at the end of that exchange.  Two and a half minutes to go in the game and one act of stupidity results in an additional 4 points that the offending party wouldn't be around to help get back.
In the
game chat here at BobcatsPlanet.com
, spectre had a great line:  "I thought (flagrant) 2s were supposed to be intentional…not dumb."  Tyrus Thomas will do a few things in the course of the game that make you go "Ack, what an idiot."  He's high-energy and highly-athletic and sometimes his decisions make you think he might be high.  He has helped immensely in the 4th quarter in several games, the block on one end, dunk on the other to get the crowd back into it, he does that kind of thing all the time but he absolutely killed any momentum and possibly the chances the Bobcats had of winning that game last night.