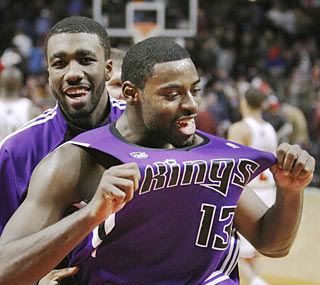 Wow, that 3rd and 4th quarter was uncomfortable, I mean really REALLY uncomfortable. Through quarters 1 and 2, we looked like the same Bobcats team that stepped on the court during this last 10 game stretch. Were taking good shots, grabbing  most of the boards and most importantly we were playing the same hellacious defense that we as Bobcats fans have come to know and appreciate. Then it happened… Well not necessarily it, more like who. The who was Tyreke Evans, In most recaps win or lose I enjoy harassing the other team and having some fun at their expense ( so sue me I'm an immature kid at heart ), but today I'm not going to do that.
Gentlemen, Tyreke Evans is real. No gimmicks, He is not an over-hyped creation of the media, He is no fluke. This rookie came pretty damned close to single-handedly bringing the Kings back from a 20+ point deficit in the second against arguably the toughest defense in the NBA. He rang up the Bobcats to the tune of 34 points, 4 rebounds and 7 assists. This kid is no joke.
In other frightening news after putting on his own personal first half slam dunk contest, Gerald Wallace rolled his left ankle in fourth quarter. He managed to return with a few minutes remaining to help close the game out, but you could tell that he was in significant pain. At this point who knows if this will affect his entry in this years dunk contest.
Despite Tyreke Evans' heroics, the Bobcats cold 2nd half shooting ( 39 points ), Gerald Wallace's ankle injury and Stephen Jackson getting victimized by Dick Bavetta with 5 personal fouls, the Bobcats managed to hang on and squeak out a 2 point win.
The good:
Raymond Felton came within 1 rebound of getting the franchise's first triple double
The Bobcats moved 1 game over .500 ( 20-19 )
The bad:
The Bobcats were outscored 56-39 in the second half and fell into the old habit of taking quick shots
The ugly:
Gerald Wallace's ankle sprain. Let's hope this isn't something that is going to linger deep into the season. We need him at close to 100% if we're going to have a successful playoff run