Those of you that know me well or that have followed BobcatsPlanet since the early days know that I like to tinker with things. In some aspects that characteristic can be looked at from a positive perspective. For example, I am always looking for a way to improve things that I'm working on. Another way of looking at it is that I constantly create change… and change tends to drive people a little crazy.
Now that I have that 30 seconds of psychoanalysis out the way, I'd like to announce that shortly after the end of the season, I'll be making some fairly significant changes to the layout of the blog portion of our site.
Through the magic of archive.org, lets take a look at BobcatsPlanet throughout the years.
Version 1.0 (2006)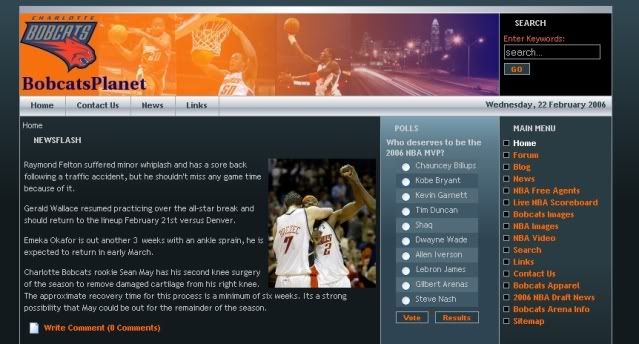 Dark grey, with traces of orange. I really like dark themes, but I can't tell you how many complaints that I got about the difficulty of reading light text on a dark background.
For the geeks: CMS/Blog – Joomla 1.0 Forum – Joomlaboard ( a precursor to Fireboard )
Version 2.0 (2007)
At the time that I made this change, the Bobcats' primary color was orange, so it would only make sense for me to use an orange theme, Right? I regretted using all of that orange almost immediately. After a few weeks, the Orange made me want to claw my eyes out… Not one of my better moments.
For the geeks: CMS/Blog – Joomla 1.0 Forum – SMF
Version 3.0 (2008)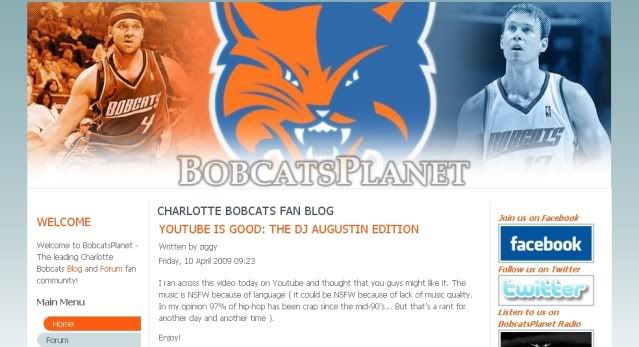 As of 4/10/2009 this is the version that you're looking at. I liked the layout and it was so much easier on the eyes than 2.0. The page headers were clearly the best that this site has ever seen, but there was one small problem. With the arrival of Larry Brown (ILBIT) about 2/3 of the guys in those headers got shipped out of town post haste.
For the geeks: CMS/Blog – Joomla 1.5 Forum VBulletin

Version 4.0 – Stay tuned in, I hope that you'll like it.